Concrete and Concrete Block Retaining Walls

Concrete is an incredible building material and when it comes to building retaining walls it is hard to fault. The nature of curing and setting concrete makes it flexible in its design applications and with a skilled team behind the project, the design possibilities are limitless. Coupled with the concrete's incredible resilience against extreme weather conditions, cement or cement blocks are a great, low-maintenance solution for retaining walls.
What locations are concrete and concrete block retaining walls good for?
Concrete and concrete block retaining walls add form and function to an untamed, uneven section. They can be used to level out areas in properties to reclaim space that otherwise cannot be utilised and creates verticality for your section. Concrete is extremely resilient against extreme weather conditions, so a well-built retaining wall will stand the test of time even with minimal maintenance.
The vast array of split blocks available to build a concrete and concrete block retaining walls provides a range of aesthetics to suit any person's chosen style. From natural finishes that seamlessly blend into the environment, or contemporary lines that evoke a sense of art, concrete as a medium has an almost endless range of possibilities.
Retaining walls are often used to create incredible gardens and landscapes, but can also be used to level off driveways and footpaths, providing a practical solution to many landscaping problems that look great.
What is the most common type of concrete and concrete block retaining walls?
Concrete and concrete block retaining walls can be broken into two main categories
Landscape Retaining walls: These are designed to create smaller and freestanding retaining walls. These are what most people think of when they are looking for a retaining wall, and are used to level out uneven terrain, build fire pits, outdoor kitchens, planter boxes, and more.
Structural Retaining Walls: Structural retaining walls are usually created for commercial, municipal, industrial, and residential projects. They are usually significantly larger than landscaping retaining walls, at times reaching 15m. Due to this they generally require engineering and building consent.
Concrete and concrete block retaining walls are most commonly built as gravity walls. They rely on a combination of block weight, connections, depth of the buried wall, and wall setback to hold back the soil. They provide a versatile design, with many aesthetic options coupled with a relatively fast and simple building process. When built to the correct height parameters, a gravity wall is able to resist lateral pressure from soil solely with its weight and embedded depth. A gravity wall does not require mortar, instead of utilising lipped units and specialised pins to create a structurally sound wall. Not only does this increase build speed, but it also provides space for drainage to prevent hydrostatic loads. Gravity walls are utilised most commonly for non-critical applications, and usually are less than 1m in height.
Cantilevered walls are another popular choice for concrete retaining walls. Many people choose to go with this as they are able to cover the cantilever walls with any decorative material of their choosing, providing a wide range of aesthetic options. They also require fewer materials/concrete to build than gravity walls, but the design and build process is more complicated. Rather than building them block by block, builders create a mould, cure the wall, and set the final product into place.
What needs to be considered in regards to the soil when installing a concrete or concrete block retaining wall?
It is crucial to determine the type of soil that creates the foundation of the retaining wall. It needs to be examined to ensure that it meets the strength requirements to support the wall. In order to do this, you need to determine the type of soil, its bearing capacity, as well as its stress parameters, and friction angle. This applies to the soil that will make up the walls foundation, reinforced zone, and the retained soil zone.
The base soil needs to be firm, solid, and strong. It must also not be moist. This makes wet soils such as clay usually unsuitable for infilling. This is because it is already saturated with water and therefore additional moisture cannot make its way through the drainage channels. In addition to this, in places where temperatures drop low, freezing can cause moisture-logged soil to expand and contract, causing damage to the wall. This is why sandy soils are perfect for drainage. Because soil is such an important factor in the longevity of your cement or cement block retaining wall, a geotechnical report that describes onsite soil composition and groundwater conditions is highly recommended before building your retaining wall.
How Important is Drainage for Concrete and Concrete Retaining Walls
Drainage is one of the most important considerations when building a retaining wall. Inadequate drainage is the most common reason for retaining walls failing. Therefore it is essential to ensure that your wall has great drainage to prevent the build-up of water behind the wall. Concrete and concrete block retaining walls lend themselves well to solving drainage issues as the mortar-less design allows space for water to escape, preventing any waterlogged soils from affecting the structural integrity of the wall. Backfilling a concrete or concrete block retaining wall with gravel, installing drainage pipes, and "weep" holes also assist in allowing water to pass through the wall.
Do I need Building Consent For a Concrete or Concrete Block Retaining Wall?
In most cases, a building consent is not required for a retaining wall. The exception to this rule is if the wall exceeds 1.5m in height. In the event that the wall varies in height, building consent will need to be issued for the sections of the wall that exceed this height limit.
How Much Does A Concrete Or Concrete Block Retaining Wall Cost?
While the size and complexity of your retaining wall project will dictate the overall cost, The size and complexity of any given retaining wall will influence the final cost. For preliminary costing of your retaining wall projects it's always best to contact a specialist that can tailor a solution for you. Your best bet is to get in touch with the team at Build2 to arrange a quote and shed some light on the cost of building your retaining wall.
Build2 Are Auckland's Concrete and Concrete Block Retaining Wall Specialists
There are many considerations that go into building a concrete retaining wall that will stand the test of time. From its load-bearing capacity to drainage and wall type, Build2 has the experience to make sure that the job is done right the first time, every time. A well-built concrete or concrete block retaining wall looks great, provides practicality, and will outlast almost anything else on your property. By partnering with Build2 as your retaining wall specialist, you can rest assured that you're getting all the advantages these walls have to offer. We can assist you from the start, helping mould and shape the design process, before our skilled team of builders brings your retaining wall project to life. For more information, get in contact with the team at Build2 today!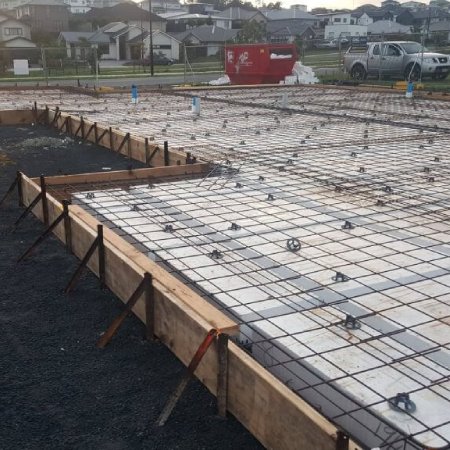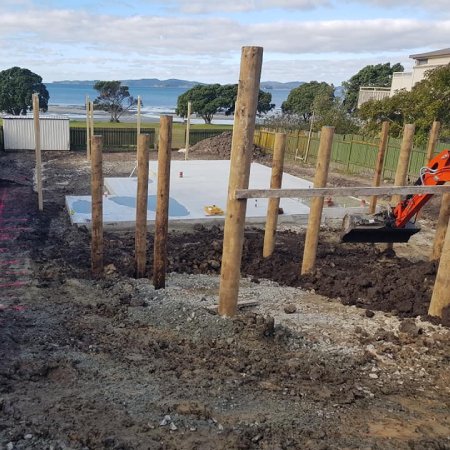 Ready to Get Started?
If you're after any more information on how Build2 can give life to your next project, drop us a line!