Garden and Landscaping Retaining Walls
Make the most out of your outdoor space.
Garden and Landscaping Retaining Walls
New Zealand has one of the most unique landscapes on the planet. The country is renowned across the world for its natural beauty – a subtropical rainforest punctuated with expansive rural plots outlined by surreal coastlines. Together, these elements have earned Aotearoa it's rightful reputation as a visual spectacle. However, there is a caveat to this ancient volcanic landscape. Many people's houses are on uneven sections of land that are often impossible to utilise. Because of this, a large portion of their property's footprint goes unused, with unmaintained terrain often becoming an eye sore over time.
Garden retaining walls are a brilliant way of reclaiming your yard and stand as a practical solution to an unruly landscape. They add form and function, verticality and depth to your outdoor space. There are endless options for retaining wall landscaping, from grand rural acreage to humble suburban backyards, with the right design team and builders on the job retaining walls can enhance any property.
Flat or Sloped Section? Either Way, Retaining Wall Gardens and Landscaping can Bring it to Life!
New Zealand's landscape provides a range of different terrains for homes. In some places, your home's yard may be uneven, sloping, and at times unusable. Retaining walls can be used in these areas to create flat terraces that provide a level platform for sears and tables. When working with evening out slopes with retaining walls, it is particularly important that you get professionals involved. There are careful considerations needed in calculating all the physics of retaining soil – the last thing you want is a collapsing retaining wall, or even worse, the foundation of your home sliding down a hill!
Playing with the natural contours of your section when creating garden beds will allow you to avoid expensive earthworks. Having a team working with you on the design from the beginning will allow you to navigate the retaining wall journey to create efficient and cost effective solutions.
But what if your section is flat? Retaining walls are still a great way to breathe life into a flat section by creating layers and depth. There are two ways to go about this, you can either excavate areas to move soil to the new levels you have built, or purchase fill to create them.
Once again, professional advice can walk you through all the steps in determining what is the most efficient way to transform your outdoor space.
Types of Garden and Landscaping Retaining Walls
There are a range of different materials that garden retaining walls can be constructed from. With all the possibilities available, there is a retaining wall solution for almost any aesthetic or budget.
Wooden and Timber Retaining Walls
Timber and wood are highly popular choices for garden retaining walls. There are a few reasons for this. Firstly, the material itself is versatile and durable. While it does limit its uses to straight and angular designs, by working with the right design team this hardly inhibits the possibilities. Timber has a timeless aesthetic and easily blends in with most home designs while also being a highly affordable material. The lightweight nature of the material means it is easy to work with, allowing for a quick turn around in construction time, ultimately avoiding any unforeseen timesinks and going over budget.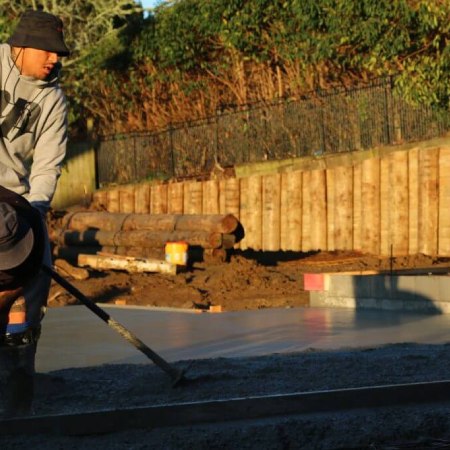 Concrete and Brick Retaining Walls
Another popular choice amongst kiwis are concrete and brick retaining walls. Concrete is a spectacular building material providing endless possibilities for garden retaining wall design. The versatile nature of being able to set concrete in almost any form coupled with a diverse range of finishes available opens up a huge array of possibilities for garden retaining wall design. Concrete is highly resilient against extreme weather conditions and is a low maintenance solution for garden retaining walls. It can pose a bit more of a challenge in the construction process due to its weight and design foresight, but with an experienced team on the project a concrete or brick retaining wall looks amazing and will stand the test of time.
How Are Garden Retaining Walls Constructed?
Retaining walls can be constructed in a few different ways depending on your desired results.
Gravity Walls
One of the most common concrete retaining wall designs for gardens and landscaping are gravity walls. They are constructed to rely on a combination the  block weight, depth of the buried wall and the wall setback to retain the soil. They are highly versatile in design, providing a range of aesthetic choices while also being able to be built relatively quickly. They do not require any mortar, rather relying on special lipped units and embedded pins to create stability while providing an easy drainage system. The maximum height for a gravity wall is 1.5m, making it a perfect choice for building planter boxes, pathways and patios.
Cantilever Walls
Another popular choice are cantilevered walls. These are constructed using timber poles that are drilled into the ground and set in concrete to stabilise them. The wall is then constructed behind them, using the timber poles as a brace against the soil that the wall is ultimately going to hold. These walls can often be constructed very easily, requiring minimum equipment and are perfect for areas that may already have developments. They also have the ability to be built higher than a gravity wall, as the timber poles can be adjusted in depth accordingly. These are a popular choice due to how versatile and quick they are to construct, while still offering a nice, clean aesthetic once completed.
How Much Does it Cost To Build A Garden or Landscaping Retaining Wall?
The cost of a garden retaining wall depends entirely on the style, design and scale of the project. For an accurate price, your best bet is to get in contact with the team at Build 2 to organise a no obligation quote. For a ballpark figure, a good starting point is to budget between $200-350 +GST per square meter.
Build 2 Are Auckland's Garden and Landscaping Retaining Wall Specialists
If you're looking to transform your outdoor space, you can't go wrong by giving your garden a facelift with some retaining walls. They create brand new spaces and help you reclaim your yard. The secret to a great result is working with the right team to help conceptualize, design and take care of all of the construction for your project. Build 2 are experts across the entire retaining wall construction process and by partnering with us, you are ensuring that every detail and nuisance in your retaining wall solution is executed perfectly, efficiently, on time and to budget. To discuss your ideas for your outdoor area, get in contact with the team at Build 2 today!
Ready to Get Started?
If you're after any more information on how Build2 can give life to your next project, drop us a line!